Health Industry Ecosystem
Focused on core medical resources, we extend our business to Internet medical service, whole life cycle management of medical equipment, medical examination, combination of medical care and elderly care and insurance brokerage. We continuously integrate quality resources and extend healthcare industry chain, in order to build healthcare industry ecosystem and realize win-win situation for multiple parties.
Healthcare Insurance
Focusing on healthcare industry chain advanced resource and strategic layout, we build a closed-loop model of medical-health-elderly care with insurance brokerage company as entry point, in order to provide highquality healthcare service to the public.
Internet Medical Service
Based on our offline hospitals, we build our group's internet platform, in order to enlarge hospital service radius and improve hospital's diversified service capability. The platform is also open to the outside hospitals for synchronized promotion. We build more internet hospital brands through outbound empowerment.
Medical Examination
We build independent examination center based on laboratories of our hospitals, in order to become a professional third-party examination service provider.
Medical Equipment Whole-life-cycle Management
We build a medical equipment professional management system that covers the whole country with Beijing at its core, and a repairing network made up of medical equipment departments in group hospitals, in order to extend to equipment wholelife-cycle smart management step-bystep.
Combination of Medical Care and Elderly Care
We build chain operation system focused on constant care nursing institution and community home care nursing center based on our hospitals. We provide human-oriented, precise and standardized one-stop healthcare and elderly care services, in order to guarantee that all people have access to "old-age medical care, pension services and happiness".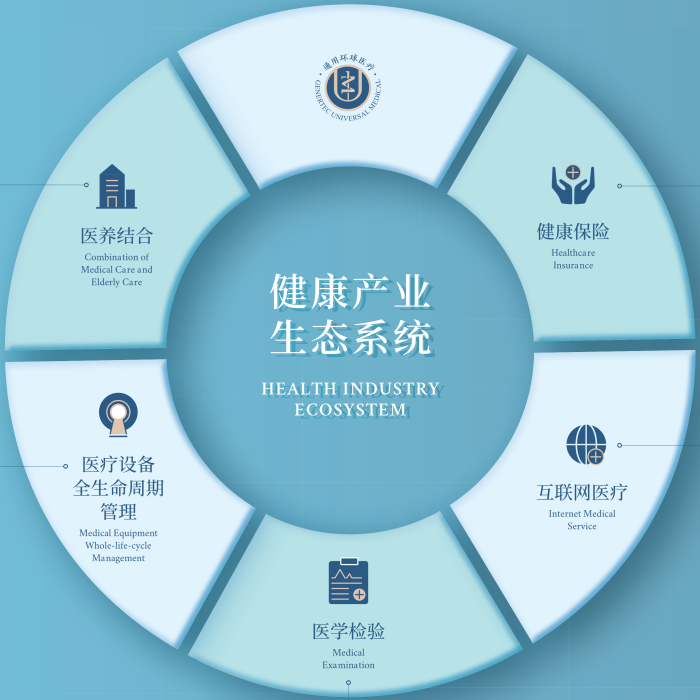 健康产业